Forward Fridays
Hello!

Welcome to my latest e-update! Here are highlights from the past week as your State Representative. 

As always, feel free to reach out to my office with any questions or concerns you have.

Forward together! 
NOTE:
We apologize for the delayed e-update! Last Friday, there was an explosion/fire at Madison Gas & Electric, which took out the power of most of downtown Madison, and shut down our internet and email systems here in the Capitol. State Government buildings, including the Capitol, were shut down as a result. Everything was back up and running over the weekend, so this week is back to normal. 
---
It's summer - so what's going on in the Capitol?
Happy summer! I hope everyone is enjoying vacations. It's HOT, and if you need assistance or know someone who might, call 211. Please remember to check on your elderly neighbors.
Speaking of summer, what does it mean that the State Assembly is not in session right now? Are we working? What do we do each week? Good questions!
We are working through the summer. Here's what we do: we  have committee hearings, bill introductions, press conferences, and other important things going on in the capitol this summer that we don't want you to miss. 
Why is that important? Well, if the news tells you we aren't working, you might stop noticing the bills being introduced (for example, curbing the Governor's veto power). So, keep listening, keep reading, and keep contacting your legislators. 
Right now, legislation is being developed for the floor session (votes) in October, and you will want to know what is happening so you can weigh in. The truth is, the State Assembly never really stops working. 
As always, if you have any questions or concerns, please contact my office. We are happy to assist you!
---
Adoption Task Force

Photo courtesy of Mackenzie Amundsen, WBAY
On July 2nd, we had our second public hearing for the Task Force on Adoption in Green Bay. Thank you to all who told their stories and shared information for the group, your voices matter and are extremely appreciated in our efforts to improve adoption in our state.
For more information on the hearing, read the news article here.
The next public hearing will be on July 25th in Balsam Lake at 11am. Read the hearing notice here for more details. We will have a few more public hearings this summer throughout the state for this task force. All will be shown live on WisconsinEye. 
---
Fourth of July 
I hope everyone had a fun and relaxing Fourth of July! I was thrilled to welcome Governor Evers to the Wauwatosa parade (one of the largest in the state!), where he was greeted with warmth and gratitude for the budget from start to finish. I finished the parade with the Governor, and then dashed off to join the Brookfield parade. 
 Wauwatosa Parade with Gov. Evers
Handing out candy in Tosa 
 Quick selfie in Brookfield
All in all, we stopped and purchased candy 4 times because we kept running out! (Rookie mistake!) And if anyone ever wonders who pays for that candy, for the sake of transparency, I personally paid for the candy -- it is not paid for by the taxpayers. And it's an honor and a joy to toss candy to kids, I loved every second! 
---
 Budget Signing

Governor Tony Evers signed the state budget on July 3rd, using his partial veto authority to adjust or remove 78 provisions in the budget passed through the Wisconsin State Legislature.
As is written on the ceiling of the Governor's conference room, and was echoed by Governor Evers before he signed the budget, the will of the people is the law of the land. In signing the budget, Gov. Evers has shown that he is willing to work together - we are willing to work together. In justice and prudence, we can work together and move forward together. 
Read my full statement here.  
---
Legislative Doors
On July 12th, my office team, a group of legislators, and about 25 staff and I launched our district "listening tour". What does that mean? Well, we will have a presence around the district throughout the year, knocking on doors and talking to constituents. We are here to share contact information, update you on what's happening, and answer questions you might have. It was fun! Nothing beats the face-to-face time we have in the community.
State Representatives Goyke, McGuire, Neubauer, Riemer, and Crowley joined us (as well as others not pictured), and we shared some Rocket Baby Bakery and Cranky Al's donuts before we headed out to meet constituents. 
---
Day in the Life of a State Legislator
Last Tuesday, Senator Hansen and I held a press conference in the Capitol introducing our bipartisan legislation for nonpartisan redistricting. It is our job to protect the will of the people, and that is precisely our mission with fair maps legislation.  This bill has bipartisan support, and currently awaits a public hearing.
Watch the full press conference here. 
The will of the people is the law of the land. The voice of the people is the heart of our state. Every vote deserves equal value.
Before I went back to Milwaukee for another event, I recorded the weekly Democratic Radio Address about redistricting. The address can be heard here. 
After I left Madison, I joined other Milwaukee legislators in a press conference by the Department of Revenue, Secretary Barca, and the Department of Veteran's Affairs Secretary Kolar. The conference highlighted the provisions in the budget passed by Governor Evers that help middle-class taxpayers in Milwaukee and throughout Wisconsin.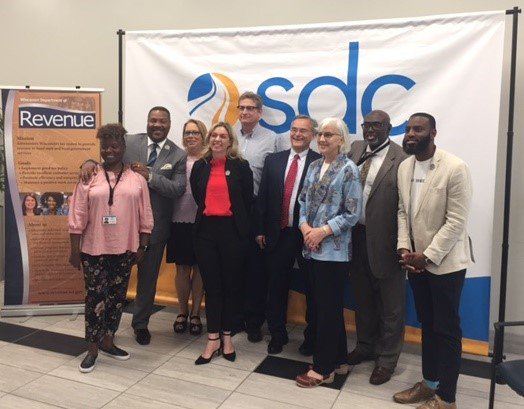 After the Milwaukee press conference, I headed home to Tosa to join 202 (!) neighbors in a Full Moon Bicycle Ride. It was a beautiful night, and it was great to enjoy this fun community event. The next ride is on August 15th! Kids welcome! The groups split into two speeds - faster and slower. Join us!

---
July 23: Student Loan Refinancing Roundtable
On Tuesday, July 23rd from 2:00-3:30 pm, members of the Student Loan Refinancing Task Force will meet with Milwaukee residents about the effects of Wisconsin's $24 billion student loan debt problem. This will be held in the Washington Park Finney Community Room in the Milwaukee Public Library-Washington Park Branch, at 2121 N Sherman Blvd. WI State Treasurer Godlewski will be there, along with Dept. of Financial Institutions Sec. Blumenfeld and Higher Educational Aids Board Executive Sec. Hutchinson.
Feel free to attend and voice your opinion! Interested community members are welcome to share their stories. 
---
Looking Forward
Feel free to email or call my office with any questions or concerns, or meet with me at one of my in-district office hours or listening sessions.
For more frequent updates, follow any of my social media: @RepRobynVining on Facebook and Twitter, and @rep.robyn on Instagram. 
Forward together,
Rep. Robyn Vining
Contact Us: 
State Capitol
P.O. Box 8953
Madison, WI 53708 

PH: (608) 266-9180
TF: (888) 534-0014

Email: Rep.Vining@legis.wi.gov 
Web: www.vining.assembly.wi.gov
---
Click  to read this email in a browser
You received this email because you're signed up to get updates from us.