Friends and Neighbors,
I think we can officially declare spring has finally sprung here in Wisconsin. After a long winter, it's nice to have the sun stay out longer, hear birds chirping, and spend time outdoors in a whole new way. Things are beginning anew here in the Capitol as well, with more and more committee hearings being scheduled and bills being introduced. I am pleased to give you a brief update about some of the things that have been going on.
In this state capital report, I have included reports regarding several items of upcoming legislation, including my "Just Cause" bill and a bill to establish the five-lined skink to be Wisconsin's state lizard. Other recent legislative topics of interest found in this month's report include decisions regarding Wisconsin's admitting privileges as well as the state's voter ID law. This edition of my capital report also consists of upcoming happenings in Kenosha pertaining to the opening of the Amazon Fulfillment Center and new funding for the Kenosha Public Library. I hope these materials are informative and helpful to you.
As always, if you have information you'd like me to share in future State Capitol Reports or if you have issues you'd like to see brought up, please let me know. And if you or someone you know is having difficulty in dealing with a state agency and would like help, I hope you will give my office a call. You can always reach me at (608) 266-0455 or Rep.Ohnstad@legis.wi.gov.
It is my honor to serve you.
Tod Ohnstad
State Representative
65th Assembly District
Wisconsin State Capitol in Springtime
"Just Cause" Bill to be Introduced
Since my last news letter, I have had the privilege of co-sponsoring legislation relating to the wrongful discharge for employment. This bill, Assembly Bill 160, would ensure Wisconsin employers can fire an employee only if they possess a just cause to do so.
Currently, Wisconsin is an "at-will" employment state. Essentially, an employer can terminate an employee at any time for any reason or for no reason at all without incurring legal liability. The only instance where an employer cannot fire an employee is a situation consisting of blatant discrimination or if the employer commits an illegal act. Employee contracts can protect employees from being fired "at will", but many employees do not enjoy this safeguard. Thousands of hard-working Wisconsinites remain vulnerable to termination from their employment for reasons unrelated to their actual work performance.

In an effort to curb the growing vulnerability of Wisconsin workers, we are introducing legislation to require a "wrongful discharge" standard for employee terminations. Under this proposal, for an employee to be discharged, a seven-part test must be satisfied, requiring: (1) fair notice; (2) prior enforcement; (3) due process; (4) substantial proof; (5) equal treatment; (6) progressive discipline; and (7) mitigating and extenuating circumstances.

Should an employee feel his or her termination does not meet this standard, this proposal will provide a one-year period following the date of the employee's discharge in which the employee can bring legal action in circuit court. In such an event, the employer would bear the burden of proving the employee's discharge met the required legal standard.
If the "Just Cause" bill interests you, family, or friends then please keep an eye out for its progress as the legislative session continues or feel free to contact my office with any questions or concerns.

Bill to Introduce a WI State Lizard
A Young Five-Lined Skink
In the past few weeks, I was proud to introduce Assembly Bill 159, which would designate the five-lined skink as Wisconsin's state lizard. In the annual Wisconsin Blue Book, the five-lined skink would be pictured along with Wisconsin's other state symbols at the beginning and end of the book. This idea for legislation comes from Mrs. Grimm's 4th grade students at Edward Bain School of Language and Arts in Kenosha.
Also known as Plestiodon fasciatus, the five-lined skink is one of the most common lizards found in Wisconsin. The five-lined skink is a small to medium-sized lizard growing to about 12.5 to 21.5 centimeters or 4.9 to 8.5 inches in total length. Young five-lined skinks are dark brown to black with five distinctive white to yellowish stripes running along the body and a bright blue tail. The blue color fades to light blue with age, and the strips also may slowly disappear. The dark brown color fades, too, and older skinks are often uniformly brownish.
One fun fact about the common five-lined skink is when threatened by a predator, the lizards can drop (as in detach) their tails. The vertebrae in the tail actually have fracture planes where the tail can separate, and muscles that close off the blood supply almost immediately. The bright blue severed, wriggling tail can distract a predator and allow the lizard to escape.
The common five-lined skink is one of four lizard species in Wisconsin. They require sandy soils for burrowing and hibernating, and as a result, have very patchy distributions across Wisconsin. The common five-lined skink will typically emerge from hibernation in late April or May and then re-enter hibernation in early September. Skinks live in oak and pine barrens and along the edges of dry hardwood forests or in grassy openings in these forests. They prefer damp microhabitats such as rotting logs and stumps where they find abundant food and also nest. If you find yourself in such an environment, be on the look-out for the five-lined skink!
Wisconsin's Voter ID Law
On March 23rd, the U.S. Supreme Court turned away a challenge to Wisconsin's voter identification law, allowing the law to stand. I am disappointed the United States Supreme Court chose not to consider the challenge to Wisconsin's Voter ID law. However, I am pleased the attorney general at least recognized implementing this policy prior to the April 7th election would have led to widespread confusion and potentially disenfranchise a large number of voters, many of whom have already cast absentee ballots. While it was not in place earlier this month, voter ID will be required going forward.
Wisconsin was one of four states in which a dispute over voting rules reached the Supreme Court last fall. Of the four states, only Wisconsin's new rules were blocked at the time.
The next statewide general election in which the voter ID law will be in place is the February 2016 spring primary, although it is expected there will be local, special elections before then in which IDs will be required.
Voters' rights have been under repeated attack for the past four years. This anti-democracy agenda will not create a single job or improve our economy. Numerous voter suppression laws have been passed, including severely limiting early voting and making it harder for seniors in residential facilities to vote. A federal judge estimated that the voter suppression law could disenfranchise up to 300,000 Wisconsinites. Even one person who is prevented from exercising their constitutional right to vote is too many, and I will continue to do everything I possibly can to encourage people to vote and make voting accessible to all.
Constituent Visits to the Capitol
Kenosha Tavern League Members visit State Capitol
It is such a pleasure to meet with folks from Kenosha when you visit the State Capitol. If you have a trip planned to Madison later this spring and summer, please feel free to stop by my office at 128 North, or give my office a call to let me know you are coming. If I'm in Madison that day, I'd love to see you.
Admitting Privileges
On Friday March 20, a federal judge struck down a Wisconsin law which passed last session to require doctors performing abortions to obtain hospital admitting privileges. An admitting privilege is the right of a doctor, by virtue of membership as a hospital's medical staff, to admit patients to a particular hospital or medical center for providing specific diagnostic or therapeutic services to such patient in that hospital. The judge ruled any benefits to women's health from the requirement are "substantially outweighed" by restricting women's access to abortion. Studies show that the safety rate for such procedures is roughly 99%.

After the bill passed last session, Planned Parenthood and Affiliated Medical Services (AMS) sued the state, arguing the requirement will force abortion clinics clinic to close because its doctors couldn't get the necessary admitting privileges. The groups argued this would amount to restricting access to abortions in Wisconsin. Planned Parenthood and the American Civil Liberties Union noted that only four health centers provide abortions in Wisconsin. If the law took effect, the groups said, the largest of those centers would be forced to close immediately, and the remaining three "will not be able to absorb the unmet need."
I am pleased the court prioritized women's health and ensured this constitution. You can click HERE if you want to read the full 91-page opinion.

Amazon begins hiring for
Kenosha Fulfillment Center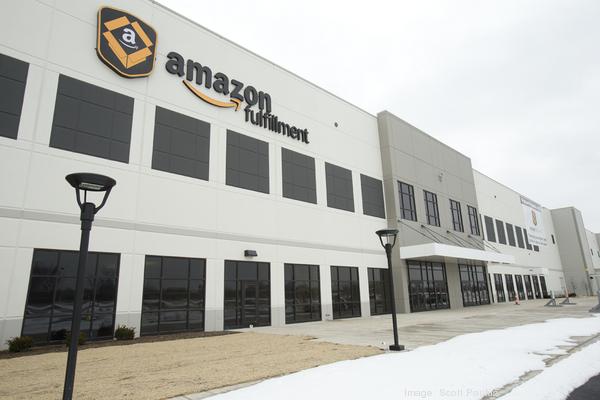 The Amazon Fulfillment Center, located at 11211 Burlington Rd.
Amazon is now hiring for more than 1,000 full-time positions for its more than 1 million square-foot fulfillment center under construction in Kenosha. At the facility, Amazon employees will pick, pack and ship small items to customers like books, electronics or consumer goods. Associates will work alongside innovative technologies, including Amazon robotics that will be used on a daily basis to fulfill customer orders.
If you're an interested candidate, then click HERE to apply.
Kenosha Public Library Wins Funding
for S.T.E.M. Education
In the upcoming weeks, Kenosha children in grades 3-5 will receive strong support for digital skills development geared at promoting science, technology, engineering, and math (STEM) education. This valuable source of funding derives from the federal Library Services and Technology Act (LSTA). LSTA is the only federal program exclusively for libraries. State libraries use the funds to support statewide initiatives and also distribute the funds through sub grants or cooperative agreements to public, school, academic, research, and special libraries.

Aside from administering funds to state libraries, LSTA also consolidates federal library program while expanding services for learning and access to information resources in all types of libraries for individuals of all ages. LSTA links libraries electronically and helps provide users access to information through state, regional, national, and international networks. In many states, the state library network provides enriched content databases for information access to all in the state.

The grant, amounting to $18,914, will be used to purchase computers and robotic equipment in support of year-long Computer Coding Camps for Kids at the library. By providing free access to local professional mentors, the Kenosha Public Library (KPL) hopes to improve children's science, technology, and math problem solving skills through fun and engaging activities, connect the "why" and "how" of the technology children use in the classroom and at home, and strengthen each child's confidence that s/he is part of the digital future. As a strong supporter of Wisconsin's libraries, I am thrilled that KPL will receive such funding, as public libraries are resources crucial to the education of Wisconsin's youth and residents of all ages. Thank you KPL for making this a possibility for our children.